Only for

Omffiby

 wholesalers. High-quality and best-selling items with up to 3

5

% discount.
1. What is the Omffiby Wholesale Program? 
In Omffiby the more you buy, the more you can save. Now all retail customers can enjoy this incredible experience thanks to our Omffiby Wholesale Program. Save money by adding more products to your shopping cart and enjoying a higher discount on your wholesale orders.


2. Why choose the Omffiby Wholesale Program?
-No any joining fee.
-No MOQ requirement;
-Enjoy the wholesale discount(up to 35%) directly online for bulk quantity.
-Wholesalers can get the lowest quotation by sending us Wholesale Inquiry.
-Sample order can be refunded if place bulk quantity(over 50 units).
-Neutral packing.
-One-to-One customer service by sales manager.
-Multiple choices of payment methods for online wholesale orders.
3. How can I become a Omffiby wholesaler?
In order to become a Omffiby wholesaler, please register a Omffiby account here.
4. How much is the Omffiby wholesale discount?
Wholesale discount rate: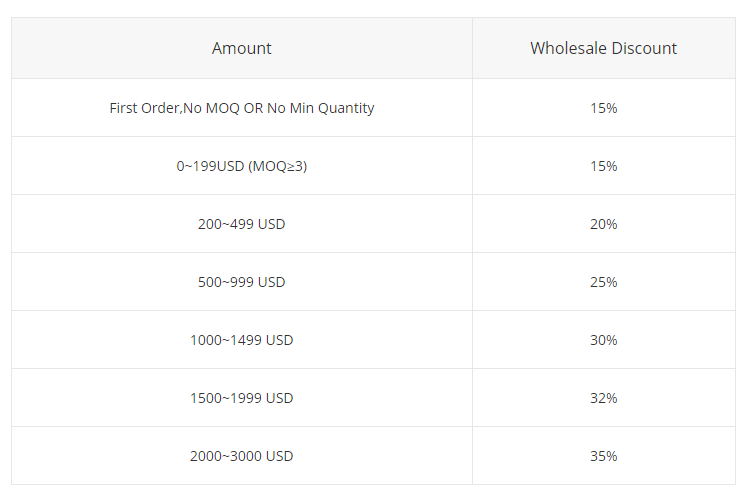 Send us an Inquiry to get a higher wholesale discount.
-The wholesale discount is based on your single order amount.Please refer to the following discount chart.
-Wholesale discounts do not apply to Promotional or Flash Deal items.
-The wholesale discount will appear in your shopping cart.
5. Is there a catalog/price list available?
We currently do not have a catalog or price list due to the fact that our products lines are constantly changing and we always focus our efforts on providing the lowest prices to our customers. You can view on our website all the information we have about our products. If you have any specific question, we recommend you contact our customer service representatives.
Please inform us about the product SKU and the quantity you want to purchase, and we will send you a price quotation.
6. Do I need to pay import duties on my order?
You are responsible for all import taxes and duties that may be charged when the item passes through customs. Many countries do not charge import duties on private items below a certain stated value. However, you may find that you have to pay taxes when goods you've ordered from us arrive in your country.
We advise you to find out about the local regulations prior to ordering from us. Omffiby cannot give you advice or information about tax rates and customs charges in your country.
7. Are there other methods which I can choose to place a wholesale order?
Except for online orders, we also accept e-mail and PO orders.
8. Can I redeem a Omffiby coupon on my wholesale order?
Yes, you can. However, coupons and wholesale discounts can not be used together for the same order.
9. Can I receive a discount after purchasing a large quantity of one item?
Yes, you can. You can request to receive a special discount after contacting us at Wholesaleinquiry@omffiby.com. Once we receive your request, we will do our best to offer you a lower price.
10. Can I have my forwarder to collect the packages from your warehouse?
Yes, you can. 
11. What are your warranty and return policy for wholesale orders?
Warranty - We can offer a refund, replacement or repair on all our products, in case the ones you have received should be defective. However, each product has its specific warranty period.
For more information on our warranties, please refer to the following page.
Return - In most cases, items can be returned within 3 days after delivery or 30 days after shipment (40 days after shipment to Brazil and Russia) if it is not possible to date back their delivery.
For more information on our return policy, please refer to the following page.
12. Can I customize my exclusive products?
Yes, you can. Please send us the product link or the pictures you have. Our product manager will do his or her best to find it for you. 
13. How can I contact you for more assistance or info about the Wholesale Program?
Email: Wholesaleinquiry@omffiby.com